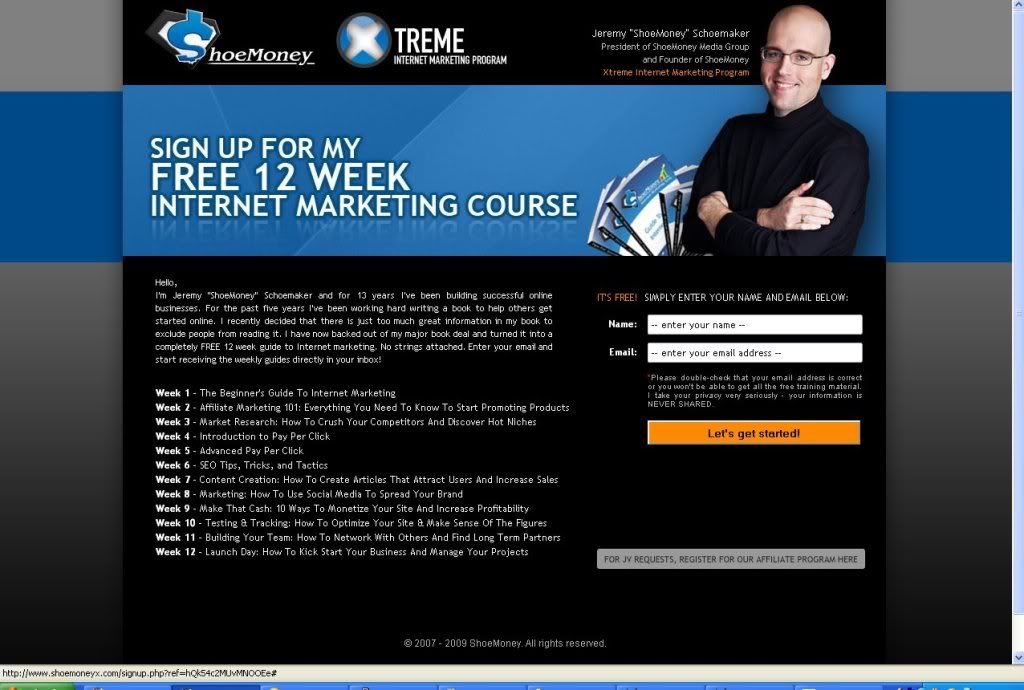 Free 12 weeks internet marketing course
dari
Jeremy "Shoemoney" Schoemaker
, seorang internet marketer kelas dunia yang kredibilitasnya tidak usah dipertanyakan lagi, shoemoney telah mendapatkan jutaan dollar dari berbagai bisnis online, sebagai publisher, affiliate, dan berbagai metode monetize from online.
Ada 12 modul yang akan dikirimkan tiap minggunya :
Week 1 - The Beginner's Guide To Internet Marketing
Week 2 - Affiliate Marketing 101: Everything You Need To Know To Start Promoting Products
Week 3 - Market Research: How To Crush Your Competitors And Discover Hot Niches
Week 4 - Introduction to Pay Per Click
Week 5 - Advanced Pay Per Click
Week 6 - SEO Tips, Tricks, and Tactics
Week 7 - Content Creation: How To Create Articles That Attract Users And Increase Sales
Week 8 - Marketing: How To Use Social Media To Spread Your Brand
Week 9 - Make That Cash: 10 Ways To Monetize Your Site And Increase Profitability
Week 10 - Testing & Tracking: How To Optimize Your Site & Make Sense Of The Figures
Week 11 - Building Your Team: How To Network With Others And Find Long Term Partners
Week 12 - Launch Day: How To Kick Start Your Business And Manage Your Projects
semuanya dikirimkan via email, Anda akan mendapatkan banyak informasi mengenai panduan step by step bagaimana membeuat sebuah website, mendatangkan traffic (pengunjung) ke website yang anda buat dan mengoptimasinya sehingga mendapatkan rangking yang bagus di search engine. Shomoney sendiri berani menggaransi metodenya jika kita komit make money online dengan metodenya ini.
Panduan ini di berikan secara gratis untuk semua orang, dari yang masih pemula (newbies) sampai yang sudah pengalaman di dunia internet marketing, tidak peduli skill anda dan level pengetahuan anda. Shoemoney memberikan gratis untuk anda, ia mengatakan :
"That's because I want everyone who has the
passion to succeed in this industry to do just that! Like I said, read
through each chapter, complete each checklist and you'll be on your way"